Solar energy contractor for design and installation of ground-mount systems
Saskatchewan | Alberta | British Columbia
For agricultural, commercial, municiapal and utility-scale projects
AGRICULTURAL
We utilize net metering and special programs such as Alberta Growing Forward, SaskPower Small Power Producers, Net Metering programs and more to offer the best ground-mount solar solutions for farms and agricultural businesses across Western Canada.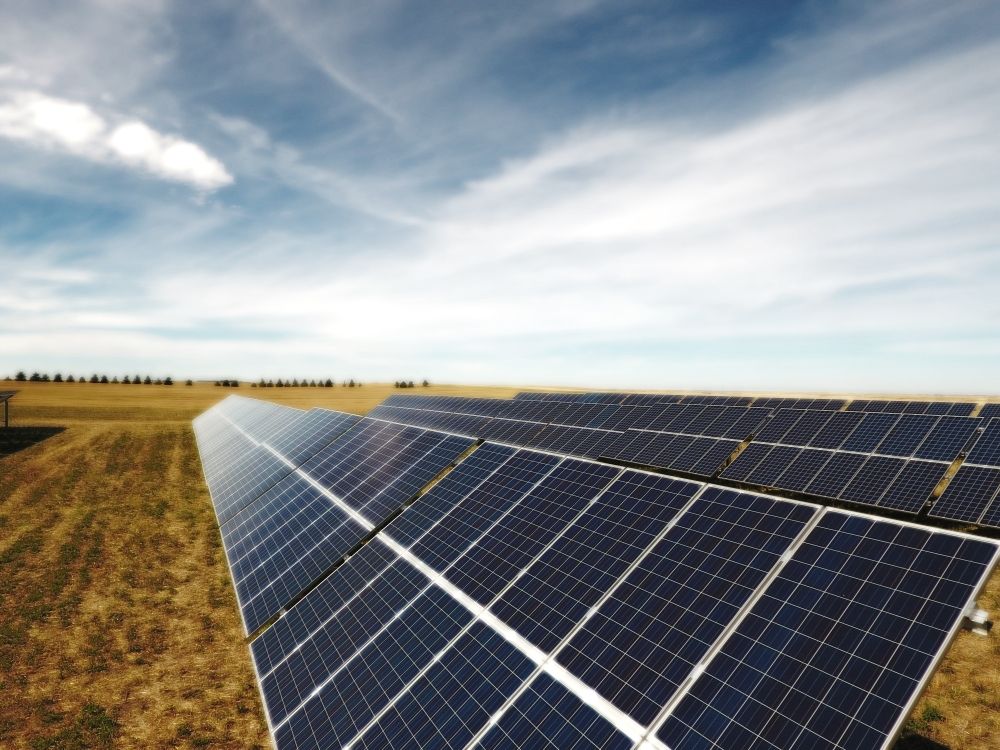 COMMERCIAL / MUNICIPAL
We offer the most efficient technology for solar foundations. Our unique capabilities and experienced team make solar power simpler and better for business and municipalities, offering more peace of mind and a greater impact on your business bottom line.
UTILITY-SCALE
We offer such services as geotechnical testing, foundation engineering, site layout, piles installation, racking assembly and PV modules mounting to solar developers, EPC contractors and utilities. We manage the installation flow of our scope to ensure your utility-scale project is completed efficiently and on time.
Complete mechanical
PV MODULES MOUNTING
We provide solar modules installation services that reduce errors and maximize efficiency, while meeting all manufacturer standards.
Solar ground-mount
Racking installation
Our experienced mechanical team can install racking in record times, while our engineers can suggest designs and type of racking that is optimal for a specific site.
Durable and safe
ROAD GUARDRAILS
In addition to solar power foundations, our Gayk pile-driving fleet allows for installing road barriers, safety guardrails and road signs.
Bankable and accurate
Geotechnical Services
To determine suitability of pile-driving technology for a specific site and to optimize the foundation design we conduct horizontal load testing, pull-out testing, borehole soil sampling, soil lab analysis, resistivity testing.
Fast and cost-effective
Solar pile-driving
Depending on the embedment depth and site conditions one crew working on a single GAYK pile-driving machine can install 100-200 piles per day. The speed of the installation combined with inexpensive piles deliver the most cost-effective solution.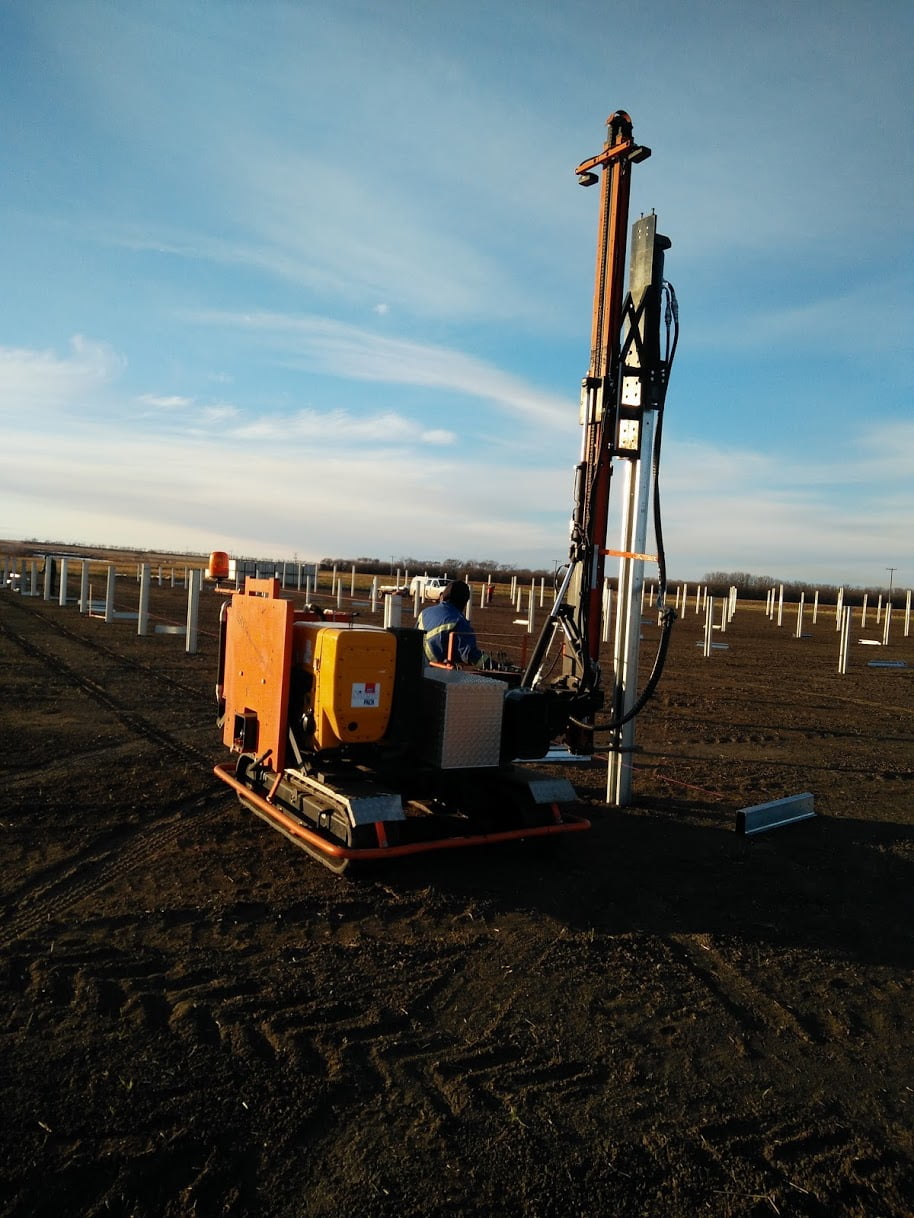 Latest Projects
List of selected solar power projects
Our Latest News
News in Saskatchewan, Alberta and BC
21Nov

This year, Saskatchewan farmers have faced the effects of seasonal changes in fallout: an abnormally dry spring was replaced by a late cool summer, which… Read More →

16Sep

Solar Plantation Inc celebrated the start-up of our 200KW solar project and our establishment in 420 Hwy 21 North, Maple Creek, Saskatchewan. If you could… Read More →

02Aug

Did you already hear that the federal government offers up to 25% rebate on solar in Ontario, Saskatchewan, Manitoba and New Brunswick? Would you like… Read More →
What They Said
Professional opinion
Solar Plantation, led by Mikhail Ivanchikov and supported by his crew, provided outstanding technical expertise and a safe, competent geo-technical investigation at our proposed PV 5 MW solar site in Southern Alberta. Working diligently from daybreak to sunset, they completed numerous boreholes and empirical test loading of driven steel piles. Subsequent to the field investigation, they complied the field and lab data, conferred with the pile/racking manufacturer to optimize the design and provided an engineered solution at minimum cost. I highly commend Solar Plantation for their work and I am pleased to use their services and recommend them to others.

Robert – Medicine Line Renewables
We decided on using Schletter racking who recommended we consider Solar Plantation pile driving services for our driven posts. Running up against winter we wanted to ensure that the posts were installed before frost. Mikhail mobilized the GAYK and installation team to Northern Saskatchewan with limited notice and drove 160 posts into the ground in less than two days. It was a delight working with Solar Plantation's installation team and I look forward to working with them again.

Moustafa Youssef – Grace Energy
Solar Plantation installed piling on 2 projects for us in 2016 totalling over 270kW of PV Solar. Mikhail and his crew were very good to work with. The customers of both projects were extremely happy with the final product. Solar Plantation showed an depth knowledge of the piling and racking system they supplied to us and the installations went without a hitch. We look forward to working with them again in the future.

Bryce Allred – Solar Optix Energy Services
Solar Plantation team and Schletter Canada have been working together for more than 5 years. Feel free to contact me on the phone for a detailed testimonial.

Sonja Gehrlicher – Schletter Canada
Company Values
We creating energy with respect of our environment
Integrity
We are committed to maintaining best practices in all that we do, while maintaining high levels of honesty and integrity.
Efficiency
We constantly strive for the best efficiency in engineering designs, products we use and in managing our workflow.
Value Creation
We implement creative ideas that add value to the bottom line of the project and benefit our clients.
Reliability
We choose the most reliable and durable products and materials that have longest economic life-span in the solar industry.